Our Verdict On Ukrainian Charm
Summary
Ukrainian Charm turned out to be a rather mediocre dating site. We were not very impressed by the range of women and quality of the profiles. We did like the availability of customer support, but the expensive rates and lack of significant safety features made us like UkrainianCharm a lot less.
Ukrainian Charm instantly tells you the premise of the website wrong: it's advertised as one of the most effective places to look for single women for marriage from Ukraine, Russia, and other Slavic countries.
UkrainianCharm has not been around for nearly as long as some other Slavic dating sites: having launched only in 2013, it is missing a lot of the experience and reputation that older dating sites are known for. There was also no section of the site dedicated to success stories, which seemed suspicious to us, as this information is usually a major source of pride for the owners.
There aren't many UkrainianCharm reviews on the internet, but the ones that we did find turned out to be divisive. A small part of Ukrainian Charm members found their experience with the site to be positive, but the majority of users pointed out several major flaws with the service. We decided to take a fair look at the site and its features with our own Ukrainian Charm review.
How it works
Your experience with UkrainianCharm begins with the ukrainiancharm.com homepage, where you can learn some basic facts about the service and take a look at some of the members you can supposedly find on the site.
Ukrainian Charm does not allow you to perform any activity without signing up for the service. At UkrainianCharm, registration consists of several steps and can take a lot of your time. The first step is providing the standard facts about yourself: your name, birthdate, and email.
For the next step, you will be taken to the matching system. Here you will be questioned about your perfect partner. You will also need to answer several questions about your personality, appearance, and dating goals. There is a possibility to skip this step, but Ukrainian Charm encourages new users to complete the questionnaire to increase their chance of finding an ideal match.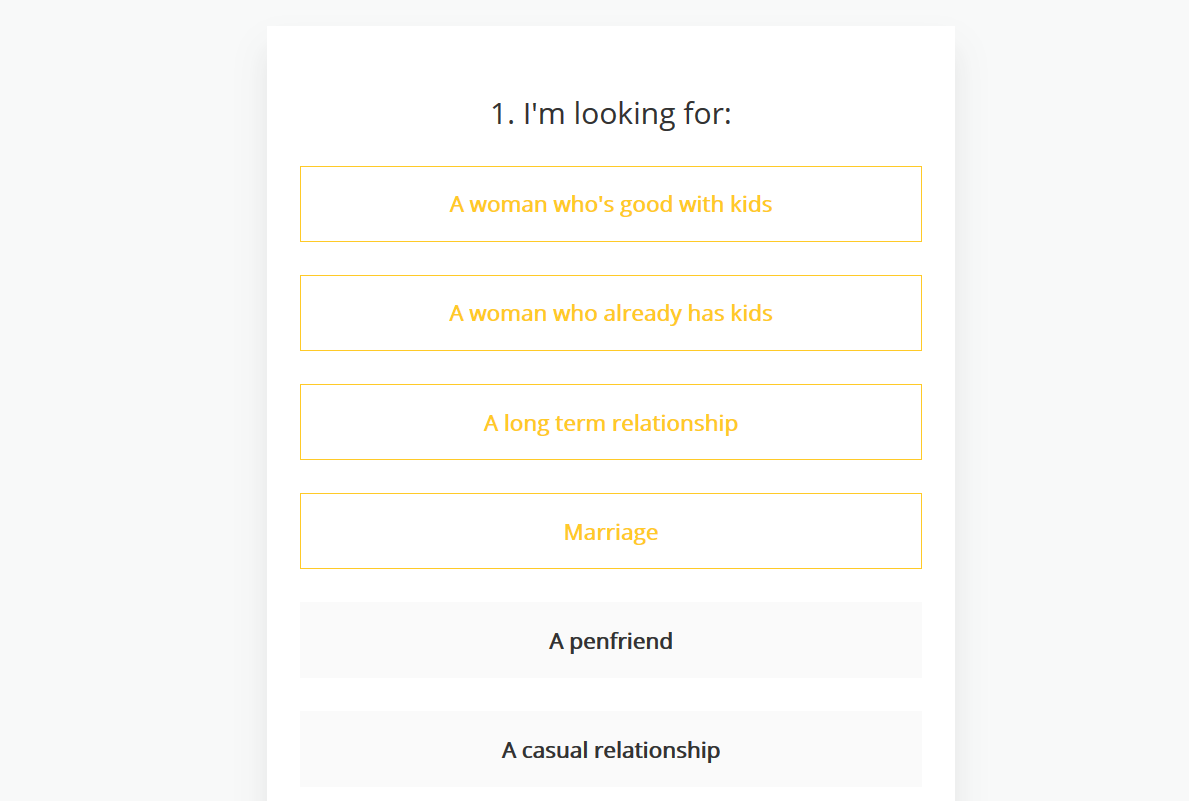 As soon as you finish registration, you will be shown your first matches. There is an opportunity to open their full profiles or to begin chatting right away. Women's profiles at UkrainianCharm are not very detailed, but they allow you to learn the most basic facts about the woman and see some of her photos.
Ukrainian Charm offers several contact options if you want to get in touch with any of the women. You can type a chat message right in the woman's profiles, or choose mail as your contact method. You can also request the woman's contact details or arrange a date. The Ukrainian Charm dating site offers a gift option — for an additional payment, you can send flowers or a physical gift to the woman you like. We have to say that with a few cheap exceptions, these gifts are rather expensive.
Who can you find there?
You can get an idea regarding the audience of Ukrainian Charm from the title of the service. Most of the women you can find there are either Ukrainian or Russian. There is also a small part of women from other Slavic countries and Europe, but you won't find too much diversity on UkrainianCharm.
Site of the day: DateUkrainianGirl.com
If you haven't found anyone you like using the matching system, there are two more options you can try. The first one is called Faces and there is a big chance it will remind you of Tinder. This  feature allows you to vote on pictures of female members of UkrainianCharm. You can open the full profile of any woman you like.
However, while playing this game can be fun, there is a very slim chance you will actually find your soulmate that way. For a more precise and practical approach, use the Search feature. UkrainianCharm offers two types of search: a simple search, where you can only specify the women's age range, and an extended search, which lets you to discover the female users of the site by their location, marital status, number of children, and education. You can also choose to only see members who are currently online.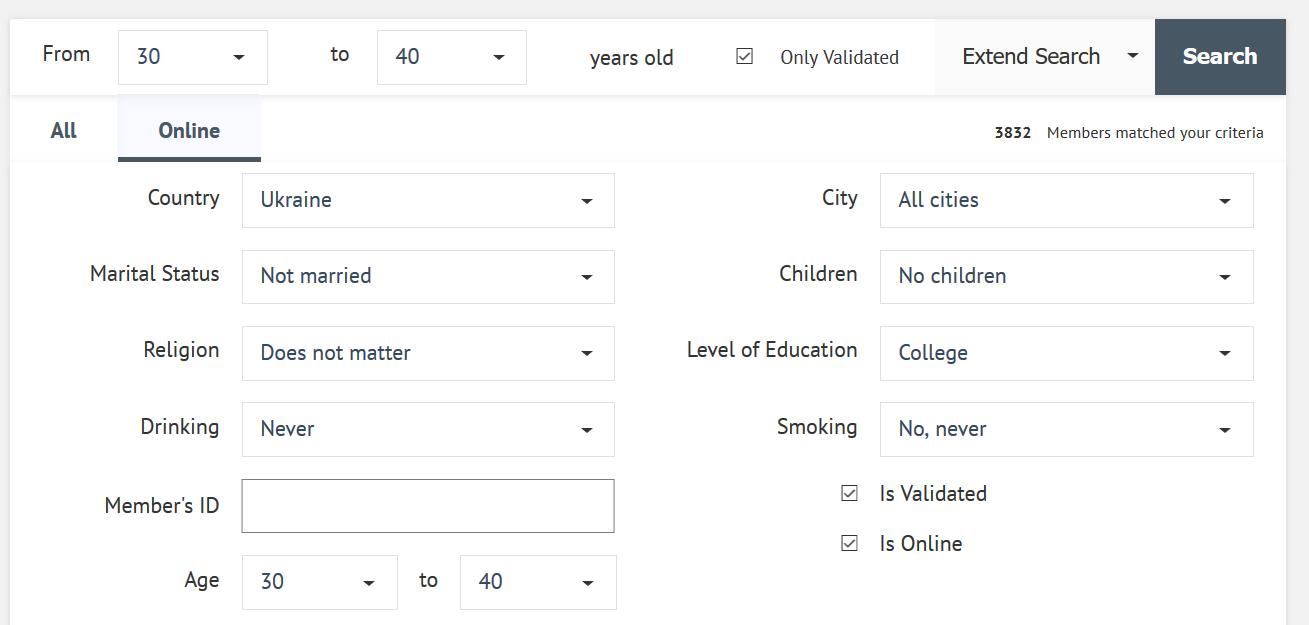 The results of your search will be displayed in a collage. Here you will see the woman's profile photo, name, age, number of photos and videos in her profile, and whether she is currently online. There is an option to launch a chat or "like" the woman without opening the full profile.
Prices
At UkrainianCharm, the only two things you can do for free is sign up and browse the women. The remaining features are only available on a paid basis. Ukrainian Charm employs a credit system, where you pay for each individual action instead of buying a membership.
Each feature is priced differently in credits. For example, you can send the first letter to any woman for 10 credits, while each subsequent letter will cost 30 credits. You can purchase a package of 50 credits for $19.99, but this package won't last you for too long.
Safety
Ukrainian Charm is clearly not the most secure Slavic online dating website in our experience. Other than a guide on safe online dating and fraud avoidance, we did not find any advanced security mechanisms in place.
We did, however, like the availability of customer support and the system of verified profiles. According to this system, both women and men can go through an easy validation procedure that determines they are genuine users. And while this system increases the possibility that you are talking to the woman in the picture, these safety features are still not enough to convince us that UkrainianCharm is a 100% safe dating site.