Our Verdict On OkCupid
Summary
At first, we were impressed by OkCupid's modern design and availability of useful features, but the website didn't prove to be particularly effective in the search for a significant other. The variety of women seemed surprisingly limited and communicating with members is impossible without a paid membership. Overall, OkCupid's popularity may be justified, but it's simply not for everyone.
The OkCupid dating website was launched in 2004 and it took it just three years to become one of America's leading dating services. It is often regarded as the most modern, technology-filled dating site where thousands of people look for potential partners every day.
Ok Cupid has been repeatedly featured on various lists as the top option for looking for love online, but there have been numerous OK Cupid reviews that were less than positive about the website and its functionality. That is we felt it was our obligation to do our own OkCupid review and see whether it is as good as some reviewers say.
How it works
Your OkCupid dating journey begins with the homepage, which is rather attractively designed and features all kinds of couples in funny, romantic, and awkward situations. The homepage advertises a few features of the website and invites you to download the Android or iOS OkCupid app. We definitely liked the presence of mobile apps, as it's the sign of a company that cares about its customers.
To create an account, you will need to answer some basic questions, including your name, birth date, and who you are looking for on OkCupid. This part of the sign-up process won't take you more than a couple of minutes.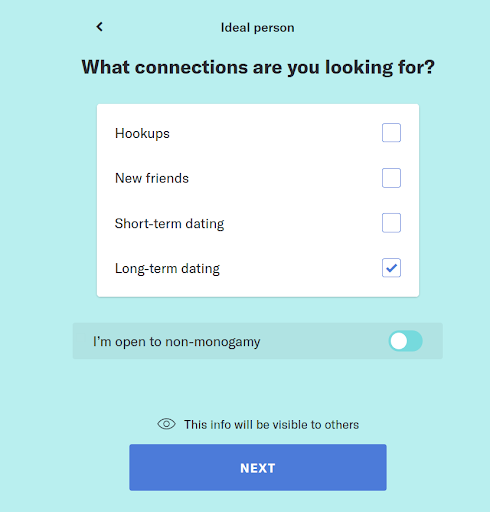 However, the registration is far from over. In order to provide you with the most precise matches and make your profile appealing to other members, OkCupid also makes you answer 15 questions about everything that has to do anything with dating. There is an opportunity to skip some questions, but the overall number of answered questions should be no less than 15. This is the part of the registration you may spend a while on.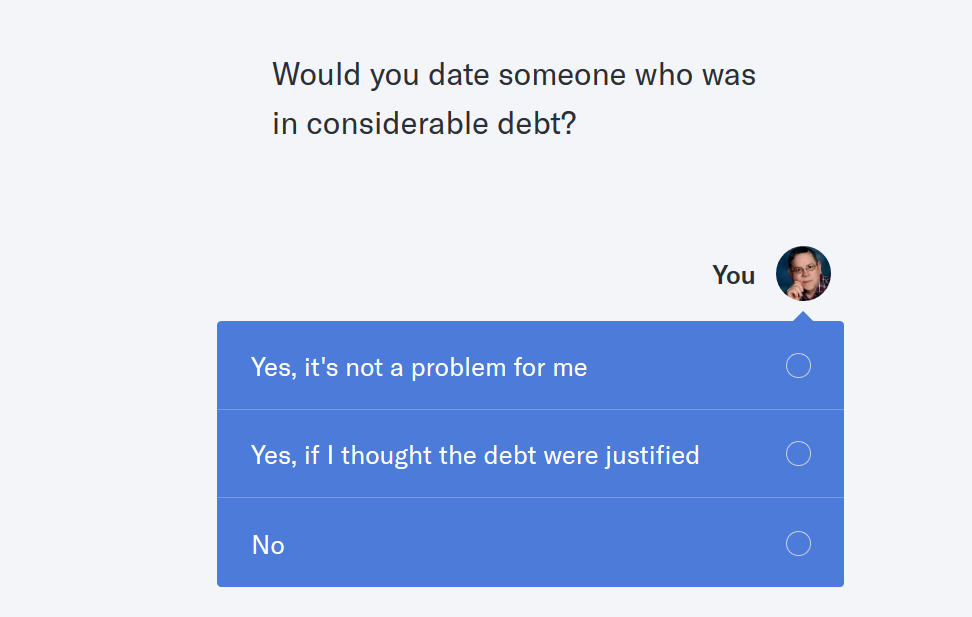 Once you complete the questionnaire and upload at least one photo to your account, you will be taken directly to the Double Take page. The Double Take section of the website functions similarly to Tinder: you are shown profiles of women who match your location and preferences. You can like them, and if they like you back, you will get a notification and will be able to begin a conversation.
If you like anyone from Double Take or other parts of OkCupid.com, you can visit their complete profile to get a clear idea about the person. The profiles at OkCupid are rather detailed and contain the member's additional photos, a description of their tastes, hobbies, dating experiences and goals, and nearly anything you may want to learn about the female member before messaging her.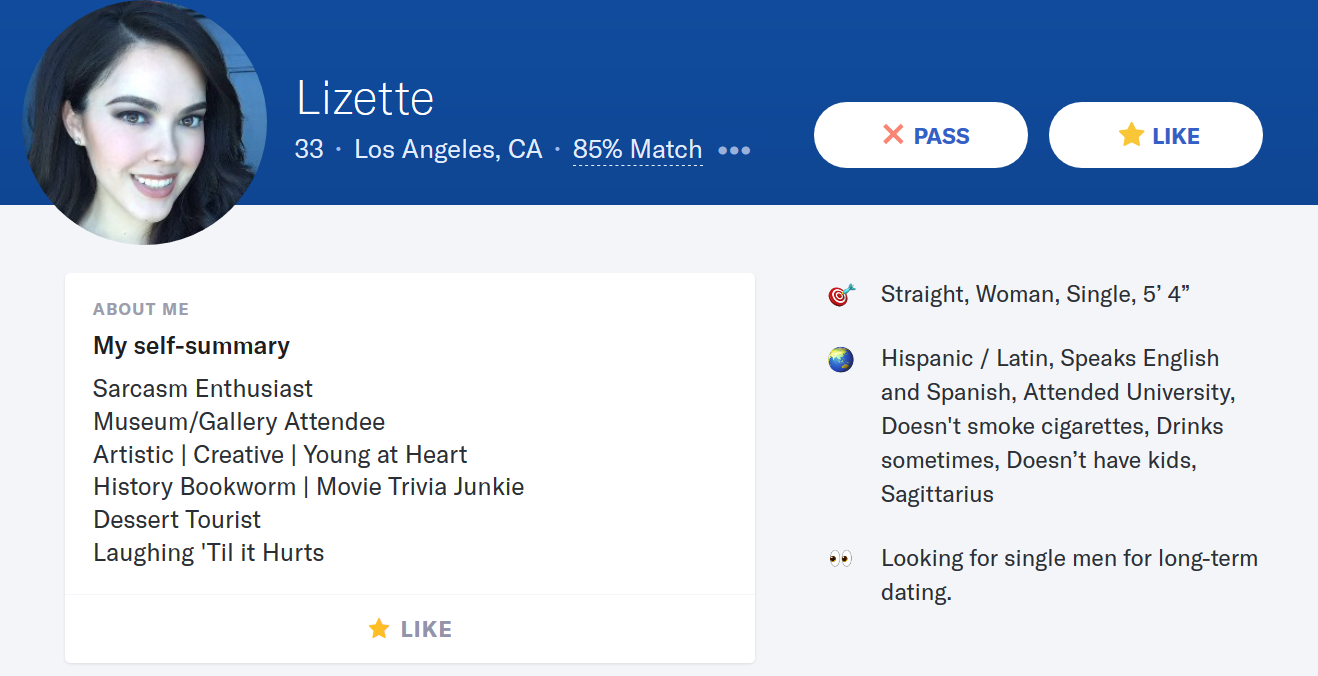 If you finally come across a profile that you like and want to get to know the woman better, you may be unpleasantly surprised by the fact that you can't do it without a paid membership. As a free member, you can only like the profile and hope that the woman reaches out to your first. To us, it's the biggest downside of OkCupid, no matter how great the functionality of the website may be.
Who can you find there?
OkCupid boasts 10 million active members from the USA alone, so we were looking forward to seeing an endless variety of attractive, smart, and outgoing women. However, the reality turned out to be different, as we mostly kept getting suggested the same 20 or 30 women's profiles every time we browsed the website.
Site of the day: DateUkrainianGirl.com
If you don't prefer relying on chance in your search for a potential partner and didn't find anyone you liked in the Double Take game, you can use the search function at Ok Cupid. It is available as a short search, where you can specify the women's age range, location, and dating goals, or as a more detailed search, where you can select the desired parameters regarding the woman's appearance, background, and dating history. Some of these features are only available to paying members.

You will see the results of your search as a neat collage, where, along with the woman's profile photo, name, and location, you will also see the match percentage, which is calculated based on yours and hers answers to the questions at the sign-up stage.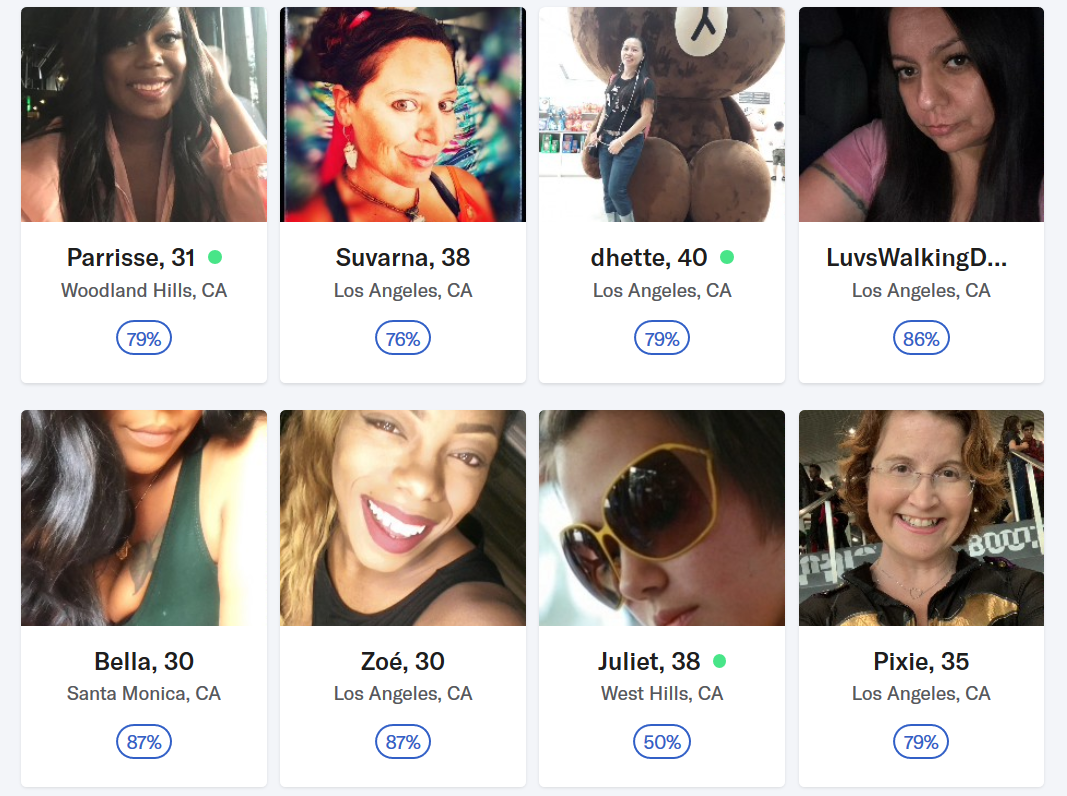 Prices
As you would notice from dozens of OkCupid reviews, the website constantly encourages you to buy a paid membership by limiting the functionality for non-paying users. There are two options if you want to buy an OkCupid membership, or A-List, as it's referred to there. 
The first one is the Basic A-List membership, which allows you to send unlimited likes, exchange messages, use more search filters, and see who liked you. This membership costs from $9.95 per month to $19.95 per month, depending on how long you want your membership to be. 
The second type of paid membership available to OkCupid members is the Premium A-List membership. With this membership type, you can get all the benefits of the basic plan, plus be able to boost your profile and see how the public answered the questions you are planning to answer. This plan will cost you from $24.90 to $34.90 per month, depending on the number of months in your membership.
Safety
Both on first and more detailed glance, OkCupid looks like a fairly safe website. The pages of the site are protected with SSL encryption, and the payment page is also secure with PayPal payments being provided as an option. OkCupid also has a special section on their website dedicated to the user security and dating safety that you can study to improve your protection.