Our Verdict On LadaDate
Summary
While we did like the presence of the detailed FAQ section with safety guides, we were less than impressed with other aspects of LadaDate. The variety of women seems rather limited, the paid features feel overpriced, and you generally don't have a high probability of meeting your perfect match there.
If you are not the most experienced international dating site user, you are probably not familiar with LadaDate yet. This dating service is not the most famous or experienced one, but it also hasn't been in the market long enough to gain any considerable reputation. However, there are many reports of LadaDate scam from former members, which is why we decided to take a better look at Lada Date and how it operates.
LadaDate is a dating website with a focus on Russian and Ukrainian brides. The advantage of the service is that they work with brides in person. There are over 50 LadaDate offices in Slavic countries, and the managers there help the prospective brides sign up for the service and operate their profiles.
How it works
Your experience with ladadate.com starts with the homepage, where you can already get a pretty good idea of what you can find on the website. There is a random selection of women's profiles and an extensive guide on how to start your search and reach success in online dating. You can even browse the profiles without creating an account, although if you want to make the move towards the woman you like, you will need to sign up for the service.
The registration at LadaDate doesn't take long: you will need to provide your email and password, as well as answer some basic questions about your personality and goals on the website. To save time, you can also log in using your Facebook or Google accounts.
The women's profiles at Lada Date are rather detailed and contain lots of women's photos, which seem to be professionally done, as well as her answers to the standard questionnaire and a self-written introduction, although we suspect it may be written by one of LadaDate employees.
After checking out the woman's profile and deciding that you like what you see, you have several ways to get in touch with her. You can add her to your contacts, start a chat, send a message, request contact information, or send a gift. Note that all of these features are only available on a paid basis.
Who can you find there?
The two primary groups of women you can find on LadaDate are Russian and Ukrainian brides. If you have more specific tastes, you can also use the menu on top of the page to find Christian, Muslim, Asian, and a few other categories of brides. You can also discover some beautiful women when you simply refresh the homepage, and each time it will come back with another selection of female members.
Site of the day: DateUkrainianGirl.com
However, while browsing those categories, you will mostly rely on chance. If you want to take a more proactive approach in finding your potential bride, you can use the search function offered by LadaDate. There is a quick search function, which allows you to specify the preferred age range of women or search the members by ID.
The more detailed search contains many fields, where you can enter the desired hair and eye colour, religion, education, and smoking and drinking views of the women you want to meet.
You will see the results of your search in a collage of women. Besides their profile photo, you will see their name, age, location. You will also know whether the woman is online and available for a chat. Without opening the complete profile, you can add the woman to your contacts, start a chat, send her a message, or send a gift.
The gifts at Lada Date are paid for in credits. You can choose anything from a box of chocolates for 60 credits to a luxurious bouquet of flowers for 450 credits. LadaDate promises to send you a report with the woman receiving your gift, but we didn't have the opportunity to try this feature and cannot confirm it's actually real.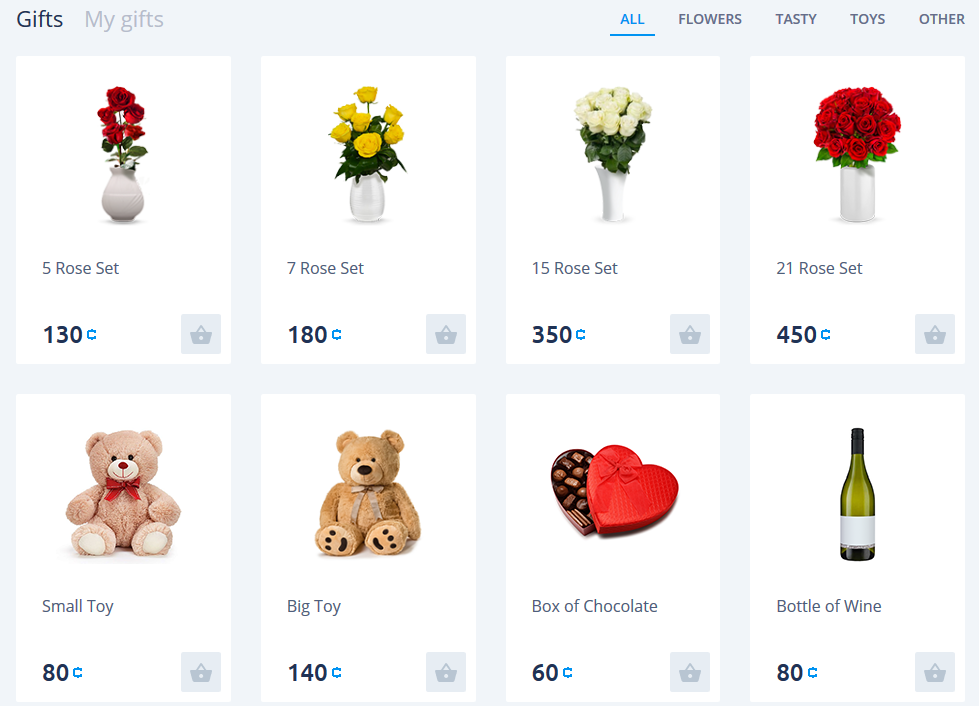 Prices
Signing up for Lada Date and browsing the website are the two features available for free, but if you want to stick around and communicate with the women of LadaDate, you will need to pay. The website functions on a credit basis, which means every action costs a certain number of credits, and you need to have credits deposited in your account before you can send a message or request contact details.
You can find the information about how credits are spent and how much they cost in the pricing section of the LadaDate website. For example, sending a letter to a woman will cost you 7 credits, and viewing a video in a woman's profile costs 10 credits for 1 minute.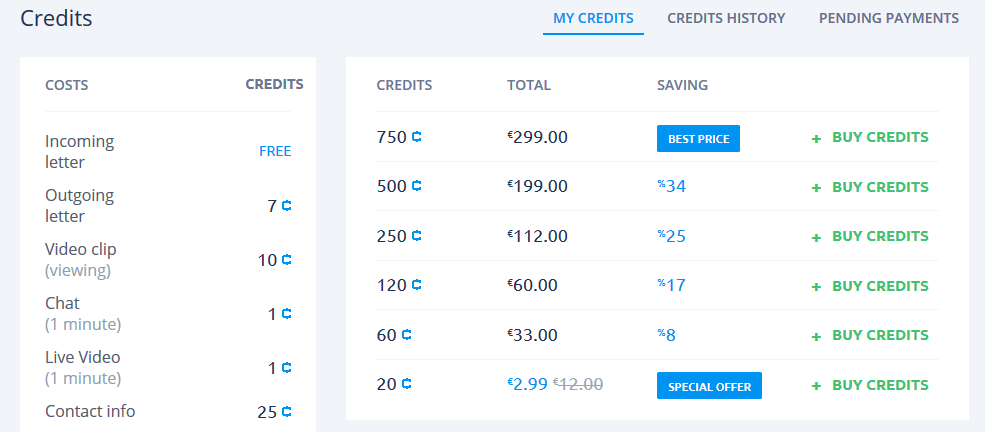 Credits can be bought in packages, which also determine the price of each credit. You can buy anywhere between 20 and 750 credits, but if you are planning to actively use Lada Date to find your future bride, you may quickly run out even of the biggest credit package — we have seen many LadaDate reviews complaining about it.
Safety
Besides the detailed guides on how to stay safe during your online dating experience, LadaDate does not have any other outstanding safety features. We did not find an option to report suspicious members, which may be because Lada Date single-handedly manages the profiles of women. However, we were not convinced that LadaDate is a completely trustworthy website. So is LadaDate a scam? We wouldn't go as far as calling it an outright scam, but there are certainly more reputable dating websites out there.